At Next Gen Math, our greatest endeavor is to keep our teacher-authoring platform aligned with students' evolving needs. That's why we compiled a list of our top new features to help you—as a student, teacher, or administrator—get the most out of NextGenMath.com.
Continue reading this article for a review of releases from the past month, including Procedural Fluency one-step equations, exporting assignments for a single student, and to catch a glimpse of our new and improved Conceptual Understanding tools!
Procedural Fluency One-Step Equations
A One-step Equations tile has been added to Procedural Fluency. These topics are made available to grades 6-8 and include:

Addition
Subtraction
Multiplication
Division

Teachers can now build a variety of problems to help increase student proficiency.
Conceptual Understanding Tools
The Conceptual Understanding corner of our platform has undergone a tremendous renovation! You'll find that many of these applications have a fresh look and larger grids, making them even better for projecting onto the board for a class activity. Now you can change the number of rows and columns in the grid (from 5x5 to 20x20), as well as the cell size and font size. Some tools feature new settings, as well, such as the ability to toggle the visibility of a number's multiples in the multiples matrix (See image below).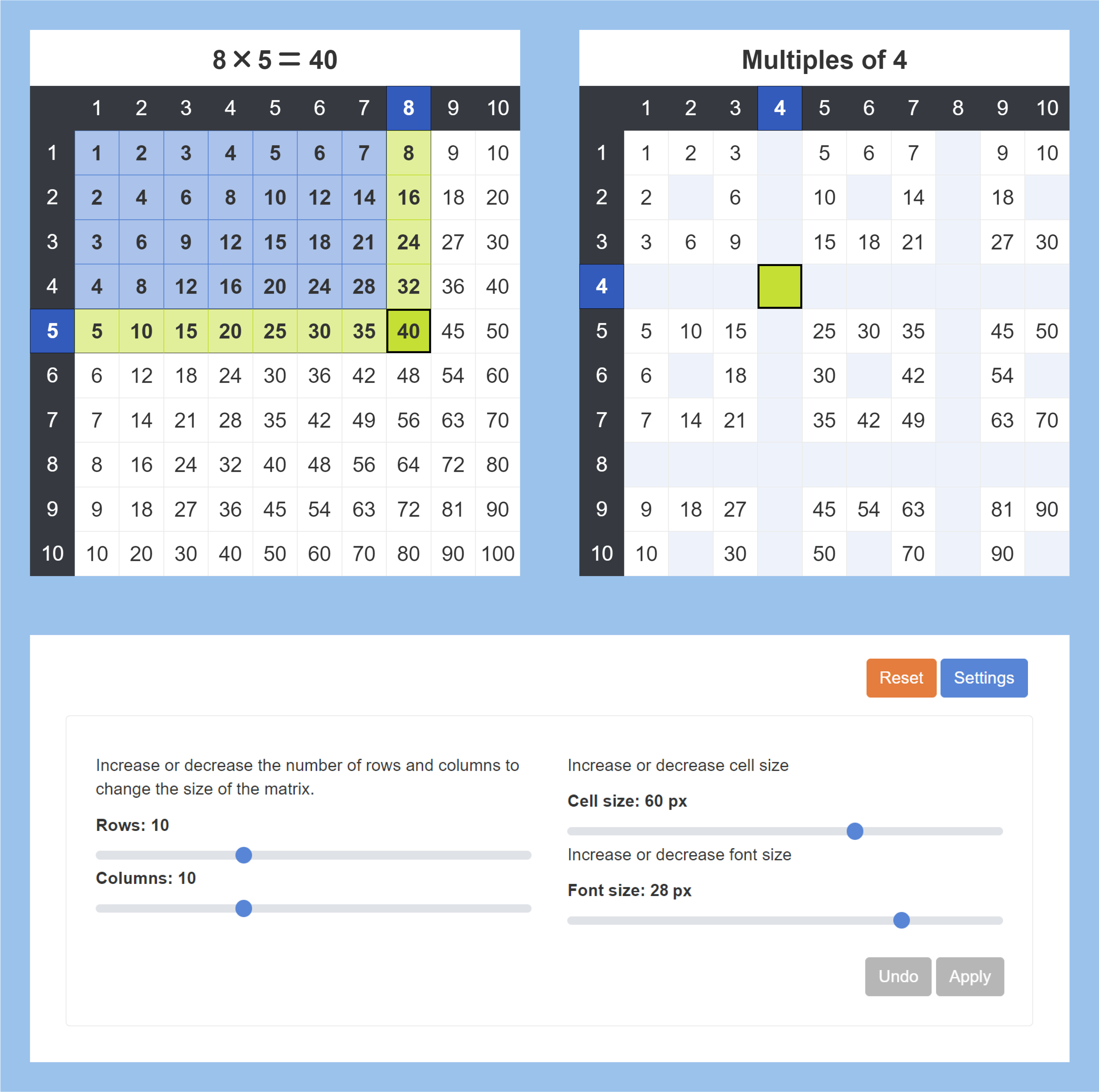 Top left: New Conceptual Understanding multiplication tool. Top right: New Conceptual Understanding multiples tool. Bottom: Settings menu for conceptual multiplication
Export Assignment Results for Single Student
A new export feature has made its way to the student dashboard! Assignment data for an individual student can now be exported in mass to an Excel file. Use this feature to obtain student results on multiple assignments in one click for IEPs, parent-teacher conferences, or weekly reports.