New stems
Several new stems centered around 2D and 3D composite shapes have been released for kindergarten and first grade geometry. These resources are valuable tools in enhancing student understanding of geometry concepts.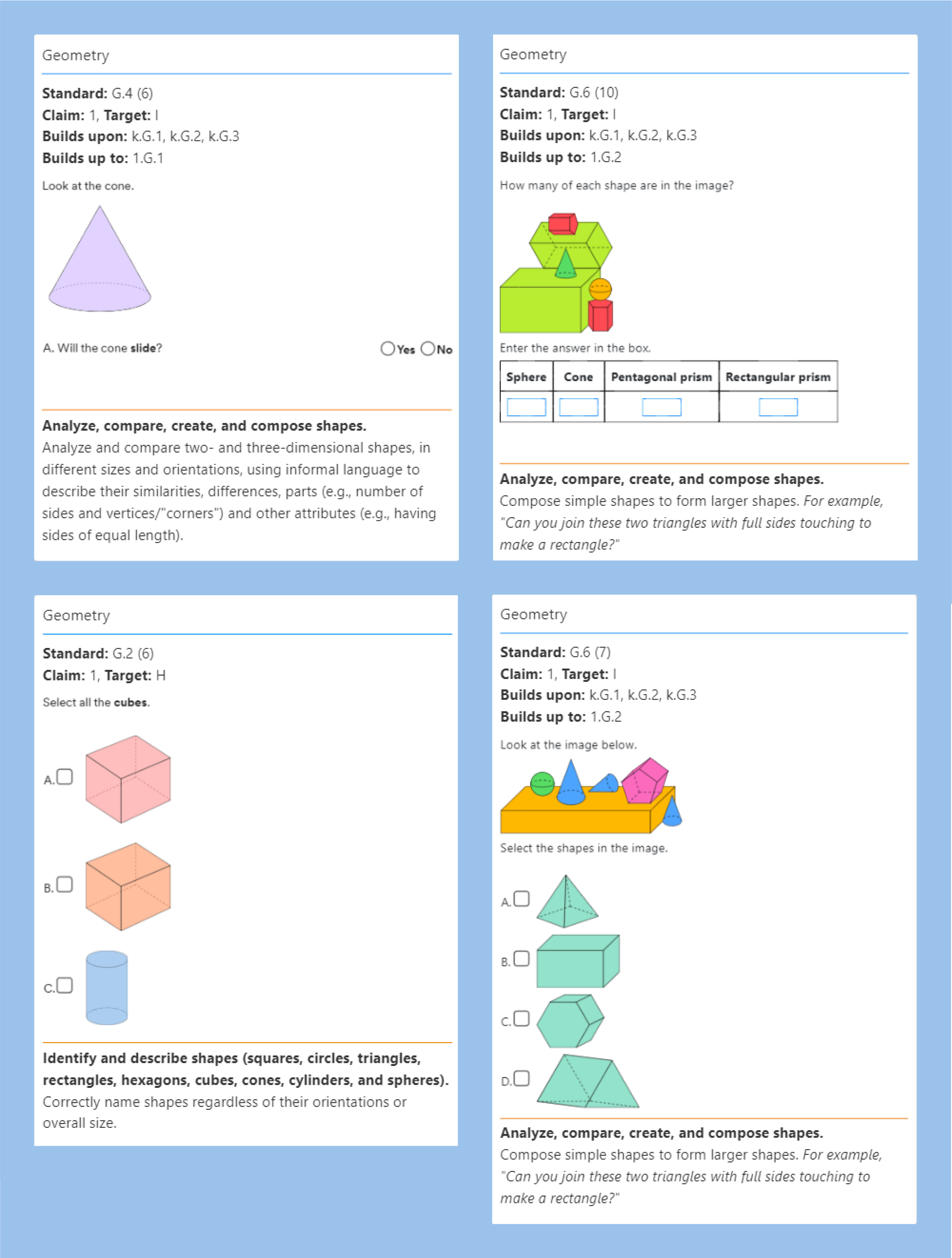 Student workspace
We've introduced a new option for Print assignments: the ability to increase the amount of student workspace. By default, extra workspace is not provided. Choosing one of the three options (small, medium, large) will add a row of blank space after every question. Ready to explore this handy feature? Dive into our tutorial to get started!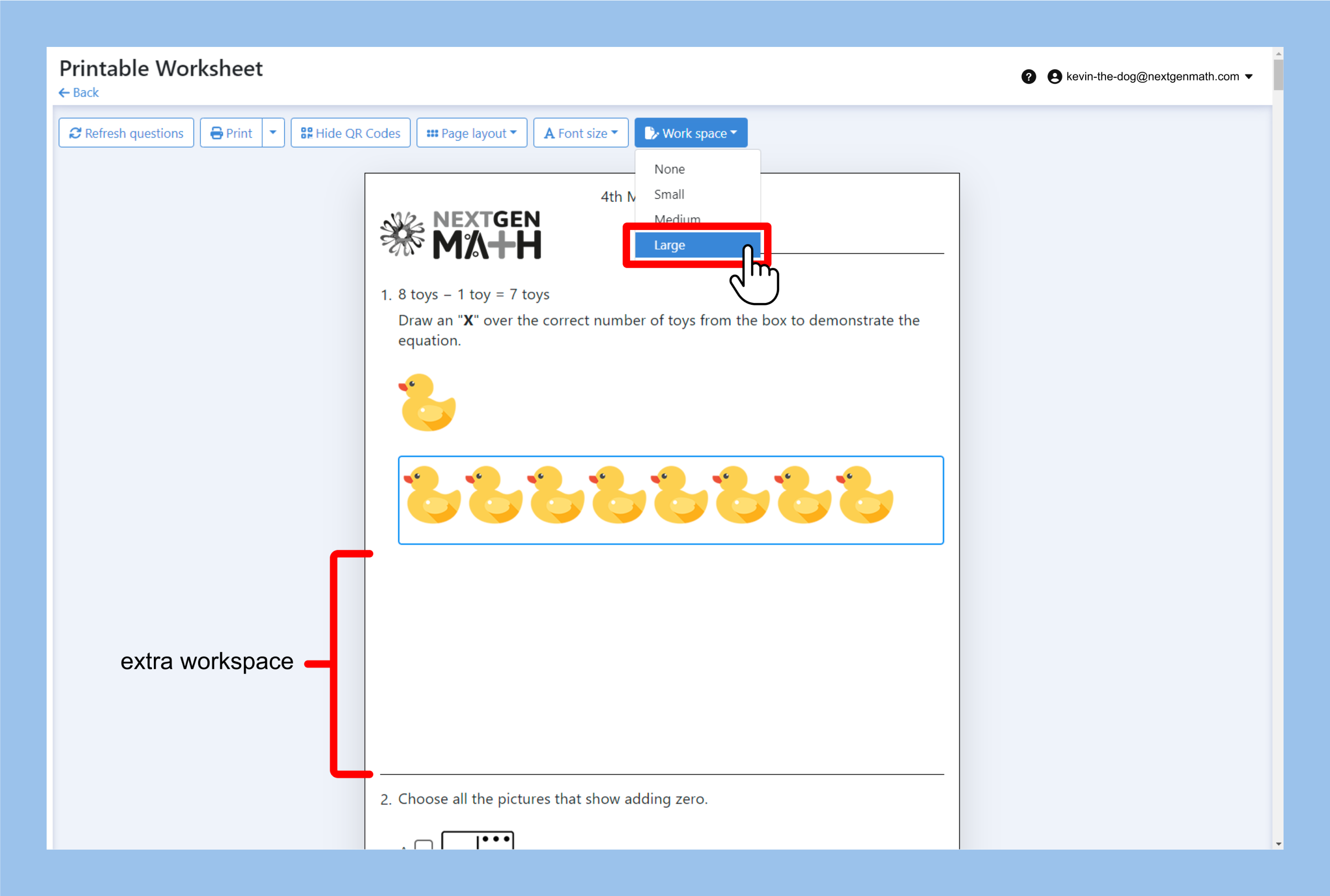 Manually enter scores
We're thrilled to announce a powerful new capability: manual entry of student scores. This feature is exclusively available for static assignments (static meaning that both Dynamic Questions and Shuffled Order are turned off). Additionally, we've streamlined the process with a convenient CSV export option for easy printing.
How to manually enter scores for an assignment
First navigate to your Assignment Data page. Then click the row of the assignment that you wish to manually enter scores for.

Doing so will expand the info panel on the right side of the screen. Click on the "Results" button at the top of the info panel.

Select "Manually Enter Scores".

Now you can click the green "check" or orange "x" buttons to manually mark answers as correct or incorrect.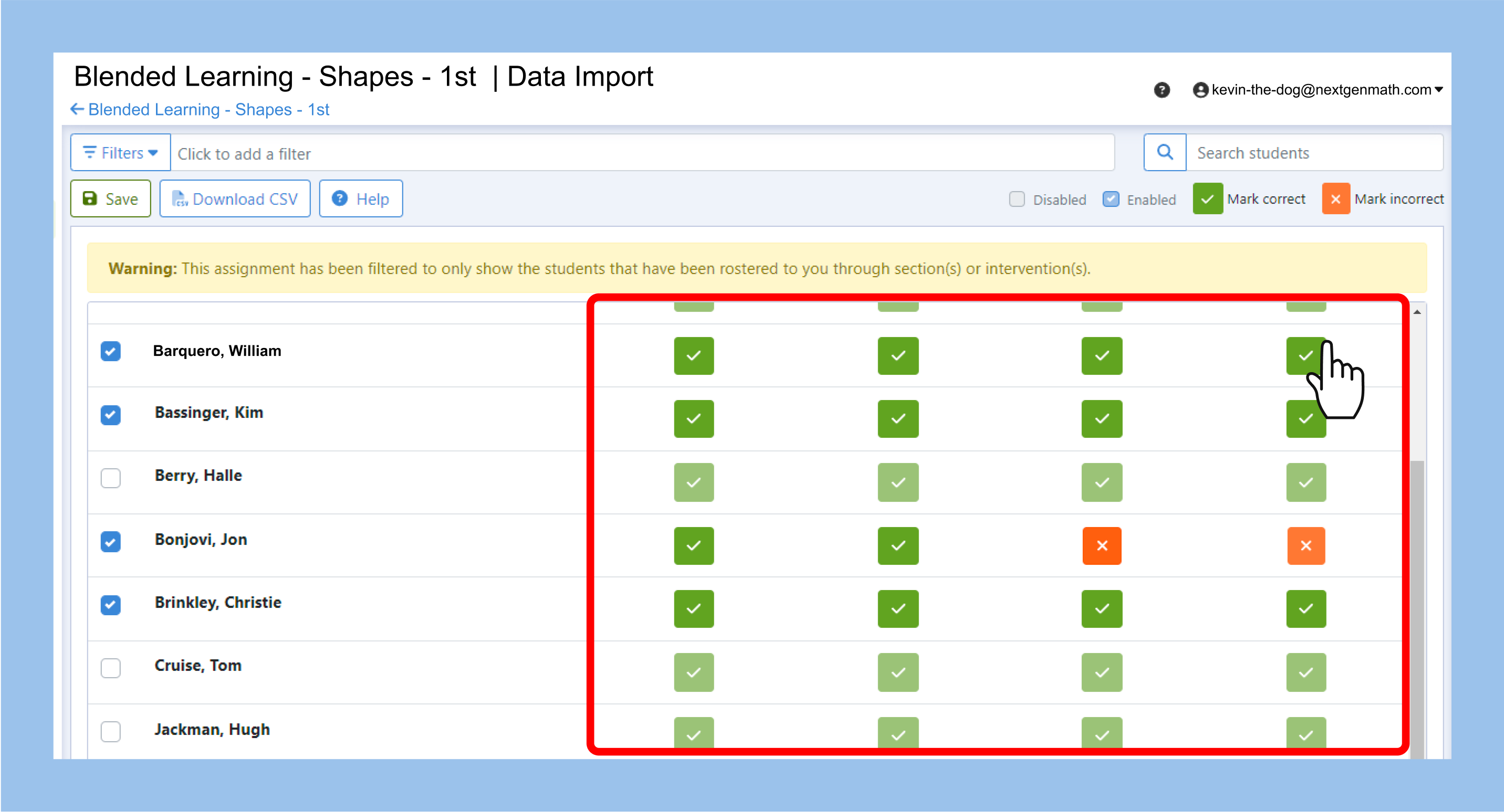 Click the "Save" button to save your changes.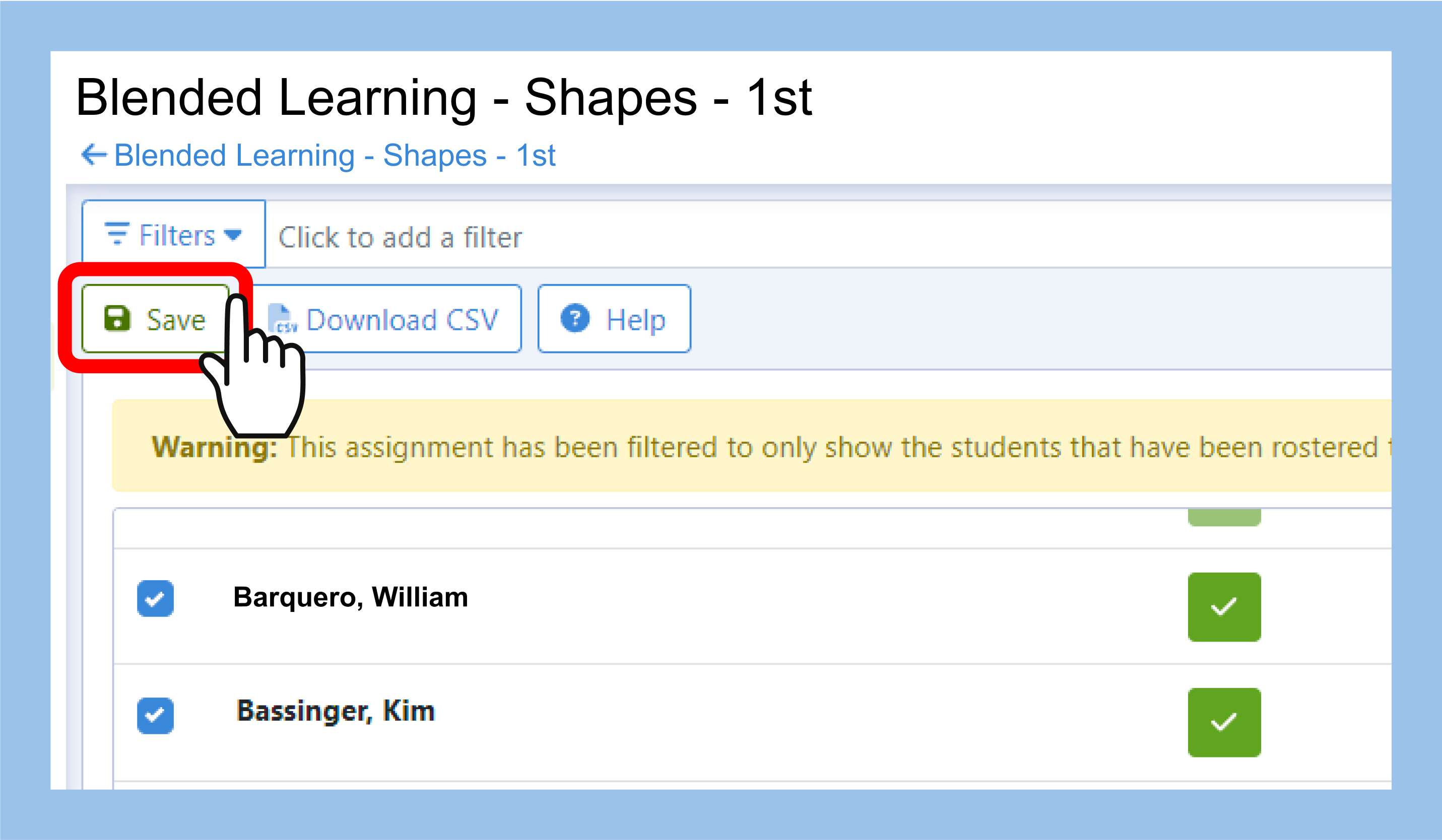 You can also download the data as a CSV by clicking the "Download CSV" button.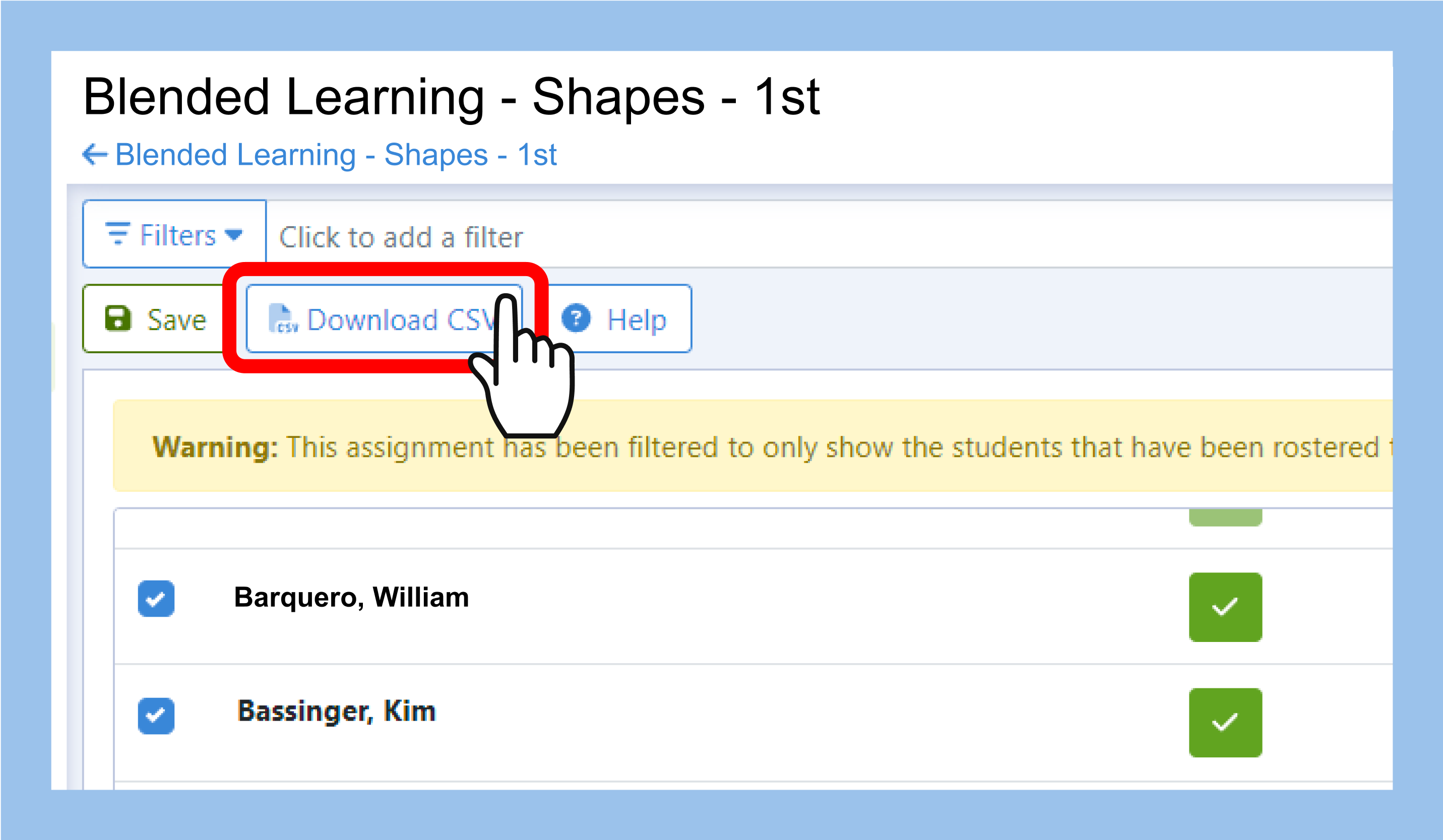 The Gradebook Export is back by popular demand
We are thrilled to announce the return of a highly requested feature to our Assignment Data page: the ability to export data from multiple assignments to a convenient .csv file. This enhancement empowers you to effortlessly manage your assignments by enabling mass export, deletion, and archiving.
Here's how it works: when you hover over a row on the Assignment Data page, a checkbox will appear, allowing you to select assignments individually. However, if you want to expedite the process, simply click the checkbox in the column header to select them all at once. This ensures a seamless experience, saving you valuable time and effort.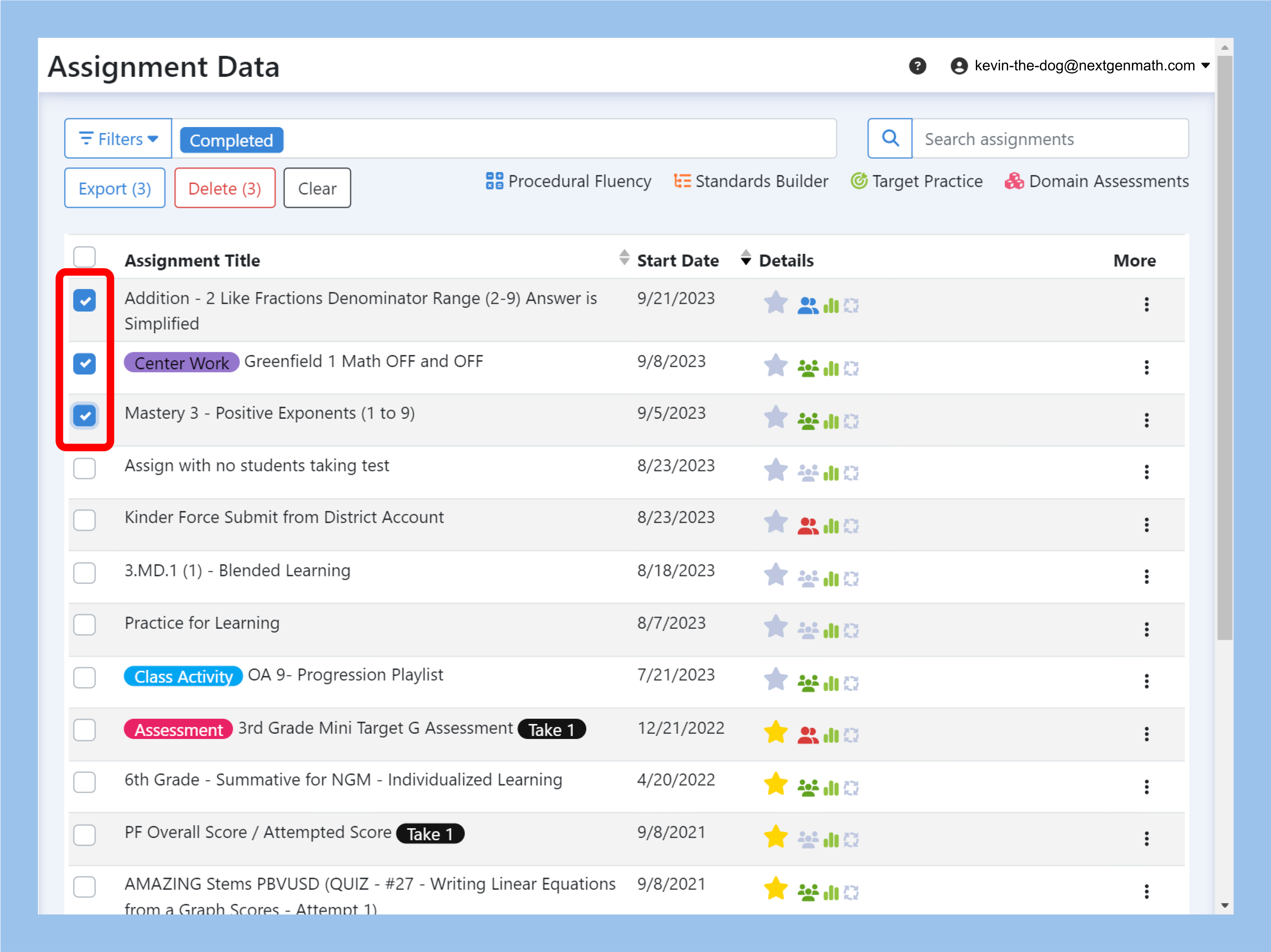 But that's not all! Our Gradebook Export feature offers even more functionality. It provides comprehensive information on assignment completion rates and class averages, all neatly formatted for easy integration into your digital gradebook. Additionally, the Gradebook Export includes an efficient report that gives you a complete overview of student scores, highlighting who has completed a specific assignment and who hasn't.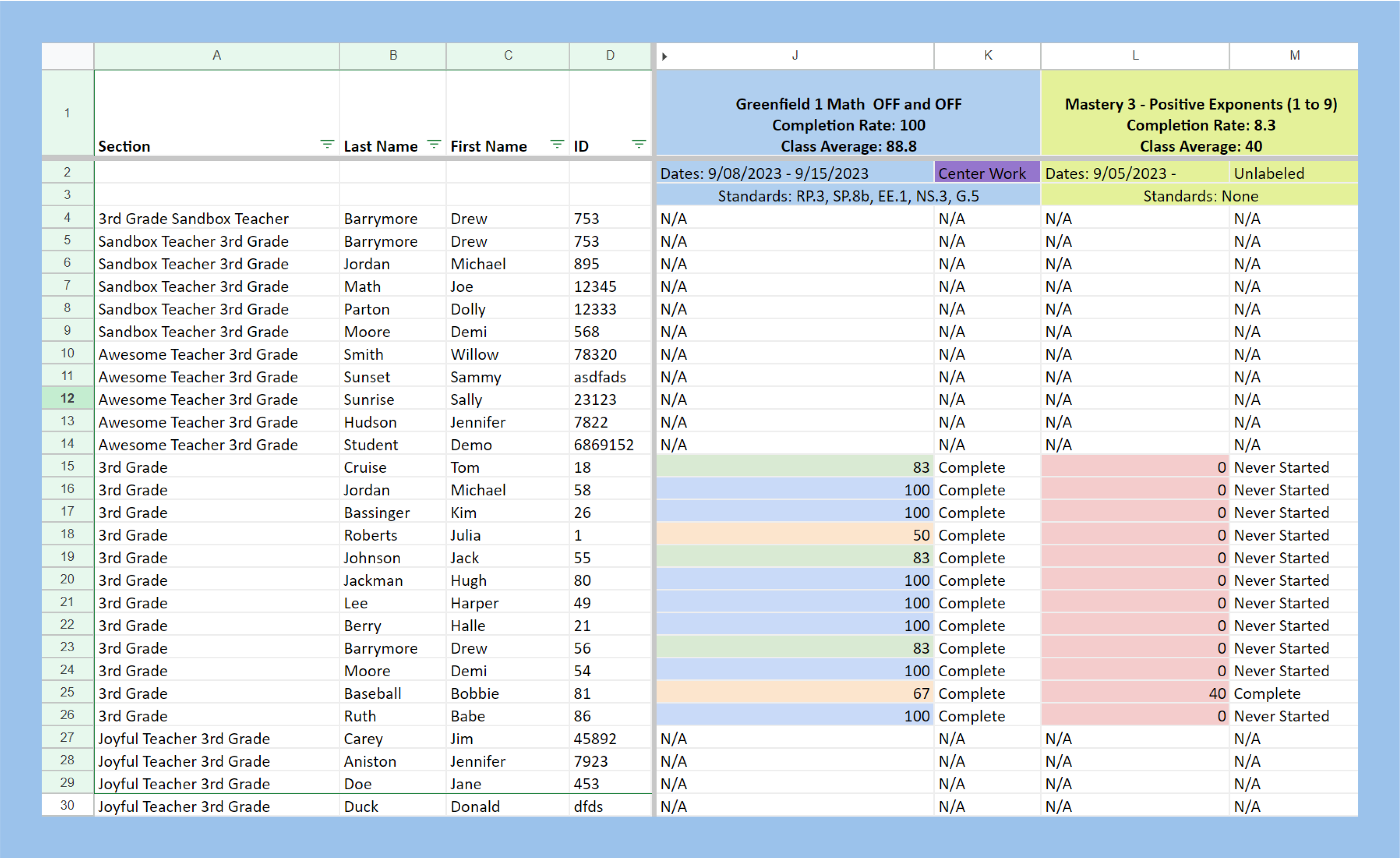 No matter your role, whether you're a teacher or an administrator, this feature puts data-driven decision-making right at your fingertips. Plus, one of the added benefits of this export feature is the ability to consolidate data from multiple assignments into a single, manageable spreadsheet.
We're excited to offer you these valuable tools to streamline your workflow and enhance your data analysis capabilities. Try out the Assignment Data export and Gradebook Export today, and experience the convenience of managing and analyzing your assignment data like never before!
School Administrator assignments will be automatically shared
When School Administrators create assignments, they will automatically be shared with all other School Administrators at their respective site. This mirrors the functionality of District Administrator assignments, which are automatically shared with relevant School Administrators and Teachers.