Next Gen Math integrates with Schoology for Assignment grade syncing. Export scores from your assignments taken in Next Gen Math to your Schoology gradebook with the click of a few buttons.
Setup
NOTE
You do not need to use Next Gen Math from within Schoology after the Setup process is complete. There is a one-time setup required for teachers/administrators interested in our Schoology integrated features.
Install Next Gen Math App in Schoology
If your administrative team has not already installed Next Gen Math in Schoology for you, you should be able to install our app yourself here.
Launch Next Gen Math from Schoology
Click the apps drawer and select Next Gen Math: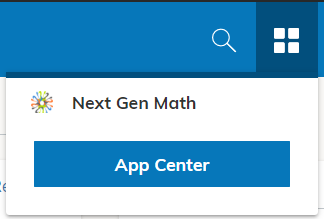 Authorize Next Gen Math's access to your Schoology data
Click Approve.

That's it! You have now linked your Schoology account to your Next Gen Math account.